Undergoing orthodontic treatment can be a long and arduous process. We get that. Having said that, as your provider of Frisco, Little Elm, and Prosper Invisalign and braces, we at Corbridge Orthodontics want you to know that we'll always be here for you with ourcompassionate orthodontic care. It's our goal to make sure that your treatment proceeds as smoothly as possible. That's why we'd like to take this time to give you five important tips for making your Invisalign treatment a success.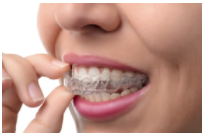 Make Sure to Brush After You Eat
This is the most important thing to remember during your orthodontic treatment. You should always clean your teeth after a meal because if you don't, the food that you eat can get trapped against your teeth and gums when you put your aligners back in. This can only accelerate dental problems, such as tooth decay.
When You're Not Using Them, Keep Your Aligners in a Case
Because you'll be taking your aligners out occasionally – as you only need to wear them for about 22 hours in a day – there will be periods where the aligners aren't in your mouth. When this is the case, put them in an actual case! This will cut down on the chance that you accidentally harm, misplace, or even lose your aligners. We've had many patients who've even thrown their aligners away by mistake when they've left their aligners lying around. Make sure that you don't do the same and always keep them in a case to protect them.
Take Out Your Aligners Before Exercising
Because your aligners will only need to be in for approximately 22 hours per day, you'll be able to pick and choose when to take them out. Obviously, you'll want to take them out for eating and cleaning your teeth. Another time you may want to take them out is when you exercise – especially if you're working out strenuously. When your aligners are in while you're working out, your mouth can become even drier and cause added discomfort for you.
Chomp on 'Chewies'
Invisalign will achieve its best results when a patient's teeth fit perfectly in each aligner before starting the next set. If you have air gaps between your teeth and your aligners, that's a sure sign that the aligners aren't fitting their best. To solve this problem, we recommend using 'chewies,' which are basically small cylindrical cushions that you can chew on. When you bite down on these for several minutes at least a few times a day, it will help the aligners fit properly and assist your treatment in finishing on time.
Delay Changing Your Aligners Until After Important Events
When your aligner change falls on the day of or before an important event, whether it's a presentation, a date, or anything else where you need to speak clearly, we suggest that you delay your aligner change. It will typically take a day or so to get acclimated to new aligners and until then, you may find yourself with a small lisp and you might also have trouble speaking normally. Wait until after your important event is over before changing aligners so that you don't have any speech problems during your big day.
Contact Your Prosper, Little Elm, and Frisco Adult & Children's Orthodontist!
If you have any questions, comments, or concerns about our Frisco, Prosper, and Little Elm Invisalign treatment, please don't hesitate to contact us. If you'd like to schedule an appointment with your adult and children's orthodontist, you can give us a call at (214) 705-6188. We can't wait to hear from you!